AMS-Newberry Library Short-Term Fellowship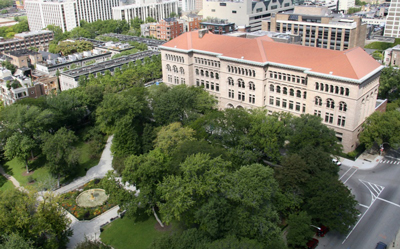 Chicago's Newberry Library is partnering with the AMS to offer a short-term fellowship to a Society member for research at the library. The fellowship recipient will receive $2,500 to fund a one-month research period.
Post-doctoral scholars and Ph.D. candidates from outside the Chicago area who have a specific need for research in the Newberry collection are eligible. (The Newberry is authorized by the Department of State to issue DS-2019 forms, which can be used by international scholars to secure a J-1 visa for the period of their research.) Applicants must be members of the AMS in good standing at the time that applications are submitted to the Newberry and throughout the duration of the fellowship. Fellowship recipients are required to be in residence continuously at the Newberry during the term of the award.
The Newberry staff will select the fellow as part of its short-term fellowship review process. Applications will be evaluated on the significance of the proposal, the applicant's ability to complete the proposed project, and the appropriateness of the proposed project to the Newberry's collection. For information about the Newberry's core collection, see www.newberry.org/core-collections. For information about the Newberry's music collection, see www.newberry.org/music.
Applications are due 15 December 2018 for research conducted between 1 July 2019 and 30 June 2020. Full information about the Newberry's short-term fellowship program is available at www.newberry.org/fellowships.
---
Previous Recipients
2017-18

James Owen (University of Georgia)
"Singing the Holy Ghost: Hymn-singing and Hymn Interpretation at Moravian Missions, 1740-1840"

2016-17

Isidora Miranda (University of Wisconsin-Madison)
"Tagalog Zarzuelas and Musical Nationalism in Early Twentieth Century Manila, 1902 to 1936"

2015-16

Scott Cave (Pennsylvania State University)
"Cross-Cultural Communication in the Spanish Atlantic Frontier, 1470-1570"

2014-15

Robert Ketterer (University of Iowa)
"Early Opera, Ancient History, and European Relations with the Ottoman Empire"